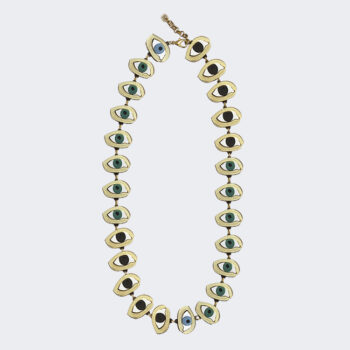 Cat eyes collar
190,00€
NOTA DE ESTILO: ¡ADVERTENCIA! El collar puede atraer más cumplidos, ¡Póntelo con un vestido negro para un look travieso! Experimente con un par de zapatillas verdes si te sientes aventurera. Además siéntete libre de devolver el cumplido.
DETALLES: Perspex y cadena bañada en oro. ENTREGA: embalado cuidadosamente y enviado con un número de seguimiento.
Descripción
STYLE NOTE: WARNING! Necklace may increase cat calls, and that's not completely our fault! Wear this with a black dress for a catty look! Experiment with a pair of green sneakers if you're feeling adventurous. Also, feel free to cat call back at your cat callers. DETAILS: Perspex and gold plated chain. DELIVERY: Carefully packaged and shipped with tracking device.